Blog
Right now Dylan is on a plane home for some much needed kip. It's safe to say a good time's been had; he leaves on first name terms with many a London whiskey barman, and not so good terms with Stone Henge's security guards. There have been songs sung on the counter at Rough Trade West and on the desks in the basement of our office, but hands down the most special of his shows took place at Soho's 100 Club on Wednesday night. Here he is pre-set with his bandmates from Nashville and Muscle Shoals. Checks were a strong theme that night.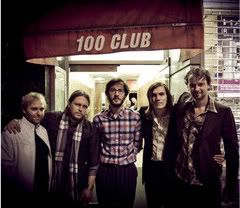 (photo Roger Sargent)
To a rammed crowd, Dylan showcased his debut album 'Paupers Field'. As the record's largely a gentle, acoustic affair, no one was quite prepared for the electric hoedown which ensued mid-set. The results were snapped strings, races between Rough Trade's Patsy and A&R man Paul 'Shag' Jones to the stage to fix them and one poor lass fainting (electric or otherwise, Dylan's a hit with the ladies – check out his poster above if you're unsure why). A true gent, he smiled broadly throughout, repeatedly addressed the sound guy as "Sir" and politely accepted the audience's 'woop'ing demands for an encore, which included a stilling cover of Bill Withers' 'Grandma's Hands'.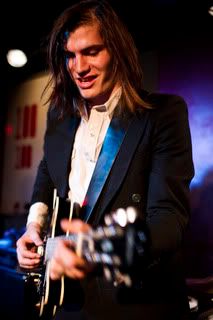 (photo Roger Sargent)
…And he's off
(photo Roger Sargent)
Comment